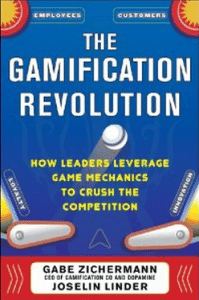 De uitgevers zijn deze maanden druk bezig nieuwe titels naar de markt te brengen. Op het gebied van gamificatie is het een en ander te melden. The Gamification Revolution (McGraw-Hill 2013) van Gabe Zicherman en Joselin Linder is een uitgebreide introductie op de technieken en implementatie van gametechnieken. Zicherman heeft al een aantal boeken op dit thema op zijn naam staan. Deze werken zijn met name voor marketeers interessant. Dit boek gaat breder.
Een korte introductie, Gamification: A Simple Introduction van Andrzej Marczewski is een makkelijker startpunt.
Vanuit bedrijfsperspectief is de titel For the Win How Gamethinking can revolutionize your business (Wharton Digital Press 2012) door Kevin Werbach en Dan Hunter beschrijft toegepaste gamificatie. Een klein (100 pagina's) maar krachtig boek waarbij gameregels en motivatie sterk gekoppeld worden.
Gemist heb ik het lijvige en doorwrochte boek The gamification of learning and instruction (Pfeiffer 2012) van Karl Kapp. De ondertitel "Game-based methods and strategies for training and education" geeft duidelijk aan waar dit honderden pagina's over gaat.