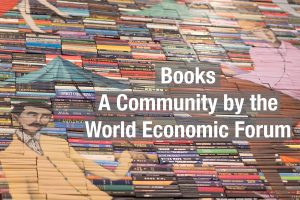 Sinds 2018 heeft het World Economic Forum een boekenclub. Maandelijks wordt een boek voorgesteld. En die komen uit een breed palet: literatuur, geschiedenis, economie, maatschappelijke thema's en andere cross-overs. Voor mij is het helaas niet bij te benen. Het grappige is dat je via het Facebook kanaal over de inhoud kunt discussiëren en dat ze de auteur daarbij minimaal één keer in die maand bij betrekken voor lezersvragen etc.. Belangwekkende boeken hebben in die nog geen twee jaar onderdeel uitgemaakt van de selectie: Leonardo da Vinci, de bio van Walter Isaacson, Steven Pinker's Verlichting Nu, Melinda Gates' Het moment of Lift om er maar een paar te noemen.
Zelf ben ik door de keuzes geïnspireerd om te lezen en te bespreken:
Raj Kumar, The business of Changing the World (bespreking hier)
Marc Benioff, Trailblazer (bespreking hier)
Brad Smith, Tools and weapons (bespreking hier)
Verder voegde ik aan mijn lijst om nog te lezen de volgende inspirerende titels toe: Inglorious Empire What the British did to India van Shashi Tharoor,  Zadie Smith's verhalenbundel Grand Union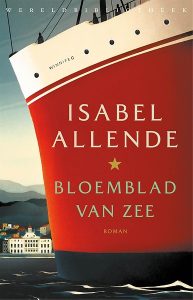 In maart was Wij bepalen de toekomst De klimaatcrisis overleven van Christiana Figueres en Tom Rivett-Canrac het maandboek. Hij ligt op de leesstapel.
De april 2020-titel is de recentste roman van Isabel Allende over liefde, reizen en isolement: A Long Petal of the Sea , vertaald als Bloembad van zee. Toepasselijk. Die gaat zeker ook gelezen worden.
Veel leesplezier. Volgen kan:
Wef bookclub op Facebook
Wef bookclub op Instagram